Recent quotes:
Health Benefits Shared by Psychedelics, Yoga, and Meditation -- Science of Us
Last year, Enzo Tagliazucchi, a postdoc at the Netherlands Institute for Neuroscience, co-led a brain-imaging study in Current Biology on LSD-induced ego dissolution, and found that the state was associated with increased connectivity between several brain areas. In explaining to me why that dissolution might be therapeutically helpful, he said that the entire psychedelic experience — even the challenging parts — has a way of "extracting the patient from his or her usual patterns of thought and contemplat[ing] upon them from a vantage point," he explained over email. The dissolution itself seemed to play a direct role in the case of anxiety in terminal cancer patients, he added. It's a catalyst for epiphany. "In a typical ego-dissolution experience, the user feels the boundaries between his or her body and the rest of the universe dissolve, and becomes 'one' with the surroundings," he added. "This might lead to feelings of transcendence or permanence in the patients, making them realize that even after their death they will still be part of something 'larger.'"
Making life harder to live in the moment
Adam Gopnik in his "Paris Journal" who wrote, "The special virtue of freedom is not that it makes you richer and more powerful but that it gives you more time to understand what it means to be alive." And yet perhaps the only way to achieve this freedom, and therefore this ability to understand what it means to be alive, is to go somewhere entirely new and foreign, a place where even the most basic actions – a trip to the grocery store or the pharmacy, ordering at a restaurant, or even negotiating the language – become deeply fascinating, trying, difficult.
The Lovely Loneliness of the Solitary Run | Runner's World
I applaud the running tribes who are inspiring new people to enjoy our sport. And I love that celebrating the difficulty of hard work is integral to the appeal of many of them. I've reluctantly enjoyed the few times I've joined such groups, and admit that, if I relax my default defenses, the cheers and music and hearty camaraderie can produce a rush. But if you, like me, find yourself longing for the quiet of the empty road or trail, accompanied by nothing but the sound of your breath and the wind in the trees, know that you are not alone. Our tribe dates back to before the first running boom. It is a tribe of solitary silhouettes moving quietly through still early mornings on empty roads. We're not outcasts. We've chosen this loneliness, and it defines and enriches us.
breath in through your nose
"One of the major findings in this study is that there is a dramatic difference in brain activity in the amygdala and hippocampus during inhalation compared with exhalation," said lead author Christina Zelano, assistant professor of neurology at Northwestern University Feinberg School of Medicine. "When you breathe in, we discovered you are stimulating neurons in the olfactory cortex, amygdala and hippocampus, all across the limbic system."
The Scientific Basis of How Yoga Works -- Science of Us
If you're doing the same poses over and over again, day after day, year after year, you're going to get pretty intimate with how your body expresses itself in those forms, and along the way cultivate what researchers call proprioception, or the awareness of where your body is in space, and interoception, or the sensations not just of the air on your skin, but your bones, tendons, and body tissues as you mindfully contort your body, as well as your emotional state. As your yoga teachers have exhorted you to do, you're gaining a finer-grained sense of where your skeleton is within your body, and how all the flesh layers on top of that. As Harvard Medical School assistant professor Sat Bir Singh Khalsa told me, these increases in internal awareness can change entire lifestyles. "Somebody's who's practiced yoga for eight weeks and then smokes a cigarette, will say, 'My god, I never noticed how bad these things were, I can't stand this, this feels awful,'" he says. With training, the body's sensations become more perceptible to you, so you feel the toxicity of things at a higher intensity. For this reason, he says, yoga can be super powerful in controlling lifestyle diseases. "People change their diets, change their behaviors to ones that make them feel better, because now, for the first time in their lives, they're actually feeling more."
Zen and the Art of Running – Personal Growth – Medium
Ask someone what it means to do a good job on an intricate project at the office and it could take them an hour to explain and require charts and graphs. Ask that same person what it means to do a good job in their next race and I bet they can tell you in less than a minute, no PowerPoint required.
Run musings
You stop thinking about running and your mind wanders off to play. Random thoughts percolate to the surface for inspection and further reflection. I think I'll grow some grapes behind the barn next spring. How will I deal with that asshole at work? Who should I contact about remodeling the bathroom? What's for dinner tonight? Soon, you discover that the miles have slipped by like drunken memories and your at mile 8.
Instagram and mindfulness
One of the parts of meditation is actually being aware of your surroundings… Sometimes taking a photo, looking down at it, editing it, adding a caption, whatever, actually makes you appreciate the moment that you're in, it makes you stop and say, 'That sunset is beautiful.' So I'm not entirely sure that it takes you out of the moment. I wonder if it actually has the opposite feeling, which is making you more present.
How Trees Calm Us Down
an additional ten trees on a given block corresponded to a one-per-cent increase in how healthy nearby residents felt. "To get an equivalent increase with money, you'd have to give each household in that neighborhood ten thousand dollars—or make people seven years younger," Berman told me.
Mindfulness therapy works as well as anti-depressant drugs, major new study finds | Science | News | The Independent
"It's a sort of mental training. It's about training the mind so people can see negative thoughts, negative feelings, the early signs of a depressive relapse, and learn the skills to respond to those in a way that makes them more resilient." A woman in one of his classes would start to have thoughts such as "I'm no good, I'm not a very good mother, I'm going to mess up my children and they are going to suffer from depression as I do", he said. But, after the training, Professor Kuyken said the woman was "able to recognise her negative thoughts as negative thoughts not facts, and not engage with them as much".  "She developed a metaphor of a wrecking ball. Instead of being knocked over, she'd stand back and let the wrecking ball swing through her mind," he added.
The Solution to Maintaining a Budget Is Awareness - The New York Times
For 30 days, when you spend money, I want you to take three seconds and simply notice what you're doing. That's the program. Simple, easy and doable. It can be before, during or after the purchase. Be consistent, and make sure you do it for every purchase.
Meditators have younger brains
The researchers used a computer programme that they created previously – it was trained on brain scans taken from hundreds of people to recognise what brains of different ages typically look like, in terms of amounts of grey matter, white matter, and cerebral spinal fluid. For the new study, the same programme analysed the brains of 50 experienced meditators (average age 51, with an average of 20 years meditation experience) and the brains of 50 healthy, non-meditators (also average age 51) and it produced a figure for each person saying how old their brain was in terms of its physical condition, as compared with the actual age of the person. Using this approach, the group of meditators had brains that were 7.5 years younger than the control group, on average. […]As a final aside, the researchers also noted that their female participants had more youthful brains than men – at age 50, they appeared three years younger, on average.
Meditation strengthens your mind-muscle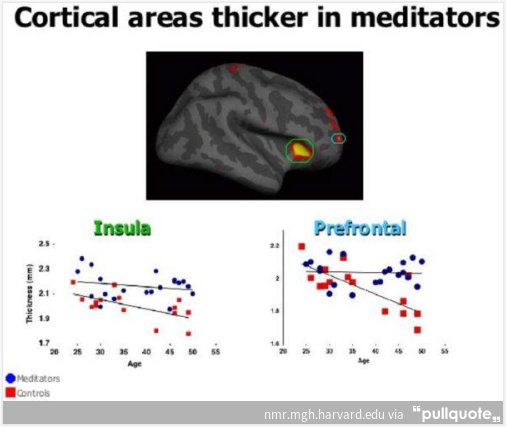 Nature melts the brain (in a good way!)
In a 2012 study, for example, Strayer found that backpackers were 50 percent more creative after they had spent four days out on the trail. They were given several tests of creative thinking—for example, they were presented with a set of words (for example: blue, cake, cottage) and asked to figure out the unifying word (cheese). Upon their return, the hikers performed twice as well on the tests. "People were actually solving the problems more creatively after they had unplugged in nature," he says.
Meditation Plus Running as a Treatment for Depression
To start, the volunteers were taught a form of meditation known as focused attention. Essentially entry-level mindfulness meditation, it requires people to sit quietly and think about their respiration by counting their breaths up to 10 and then backward. […] The volunteers meditated in this way for 20 minutes, then stood and undertook 10 minutes of walking meditation, in which they paid close attention to each footfall. Then they clambered onto treadmills or stationary bicycles at the lab and jogged or pedaled at a moderate pace for 30 minutes (with five minutes of warming up and five minutes of cooling down). The volunteers completed these sessions twice a week for eight weeks. […]The 22 volunteers with depression now had a 40 percent reduction in symptoms […]in particular, much less inclination to ruminate over bad memories. […]the healthy control group also reported feeling happier than they had at the start of the study.
decentering prayer
Every prayer, from "help" to "thanks" to "wow," is a diagram of the shape of the universe with someone else besides yourself at the center. Every prayer is meditation on power outside ourselves, on the love that we can only reflect back.
Could meditation really help slow the ageing process?
When the researchers crunched the data they found that the meditators' telomeres were significantly longer than those of the controls, by an average of 10%. They then used a statistical technique called regression analysis to get an idea which factors might be directly responsible for this apparent slowing of cellular ageing. Many psychological traits were associated with having longer telomeres, including greater mindfulness skills, life satisfaction and subjective happiness. But the statistical analysis suggested that only younger age, low "experiential avoidance" and high self-compassion were directly responsible for longer telomeres.
How Meditation Changes the Brain and Body
First they recruited 35 unemployed men and women who were seeking work and experiencing considerable stress. Blood was drawn and brain scans were given. Half the subjects were then taught formal mindfulness meditation at a residential retreat center; the rest completed a kind of sham mindfulness meditation that was focused on relaxation and distracting oneself from worries and stress. ''We had everyone do stretching exercises, for instance,'' Dr. Creswell says. The mindfulness group paid close attention to bodily sensations, including unpleasant ones. The relaxation group was encouraged to chatter and ignore their bodies, while their leader cracked jokes. At the end of three days, the participants all told the researchers that they felt refreshed and better able to withstand the stress of unemployment. Yet follow-up brain scans showed differences in only those who underwent mindfulness meditation. There was more activity, or communication, among the portions of their brains that process stress-related reactions and other areas related to focus and calm. Four months later, those who had practiced mindfulness showed much lower levels in their blood of a marker of unhealthy inflammation than the relaxation group, even though few were still meditating.
A Stanford psychologist explains why spacing out and goofing off is so good for you - The Washington Post
You can also unfocus by broadening your experiential and intellectual horizons. According to Kaufman, anything that violates expectations of how the world works can boost creativity. For example, a semester spent studying abroad boosts students' creativity. Why? New experiences that disrupt our usual way of life and show us a different perspective make us more mentally flexible or creative. […]A research study out of Harvard headed by Karim Lakhani established that there was a higher probability of someone solving a problem submitted to Innocentive if that person was not an expert in that particular field, but was in a field that was marginally or not at all related.
Lots of good links on mindfulness and brains
Mindfulness should no longer be considered a "nice-to-have" for executives. It's a "must-have":  a way to keep our brains healthy, to support self-regulation and effective decision-making capabilities, and to protect ourselves from toxic stress. It can be integrated into one's religious or spiritual life, or practiced as a form of secular mental training.  When we take a seat, take a breath, and commit to being mindful, particularly when we gather with others who are doing the same, we have the potential to be changed.
The Dark Side of Your Fitbit And Fitness App - The Daily Beast
I equate using a fitness tracker or food calorie tracker as a marker of dishonesty with ourselves. We are missing a pivotal step: self-reflection. It's really easy to buy a Nike Fuel band and wear it. It's much harder, however, to get deep with yourself. Fitness apps are a flawed, abbreviated version of this self-reflection process. They focus too much on the number of steps, calories, or distance traveled. Fitness tracking devices distract us from what really needs to happen: we need to look at ourselves naked in the mirror and have an honest conversation with our naked self about the status of our health.
Use Your Mind To Reach Your Running Goals | Runner's World
Athletes are said to have two types of mental strategies: association (tuning in) and dissociation (tuning out). Those mind-sets are further defined as internal (focusing inward) or external (focusing outward). Runners who internally associate pay attention to how their body feels while running by monitoring fatigue, muscle soreness, and breathing. Those who externally associate also home in, but on things that are important to the race going on around them, like checking a pace band or watch and looking for mile markers. Internal dissociation is a form of self-distraction, using song lyrics, mantras, and mind games. And people who externally dissociate use their surroundings--scenery, spectators, chatty running partners--as diversion. Competitive runners tend to associate more than dissociate; runners who are less concerned with time often rely more on dissociative techniques.
From Murakami to Oates, Why Does Running Appeal to Writers?
running is process and proves especially useful for the type of cloistered, intensive work they do. But in many ways running is a natural extension of writing. The steady accumulation of miles mirrors the accumulation of pages, and both forms of regimented exertion can yield a sense of completion and joy. Through running, writers deepen their ability to focus on a single, engrossing task and enter a new state of mind entirely—word after word, mile after mile.
Victoria Is an Insane 138-Minute Movie Filmed in One Continuous Take
I think one of the least important things you need for making a film whether you're an an actor or director is your brain. One of the most important things is your intuition and to get into the flow and really understand. That's what makes a film radiate. Your brain get come in the way so that you're controlling everything and eliminate mistakes, so that all of a sudden your job as a director is to always make everything clean. At the same time, [shooting in a one-take format] was a great, amazing gift: losing a lot and winning way more. It was still a very close call. I know the actors loved all three takes we did, but in my world only the last one is a film.
Tufte: seeing is thinking
In some ways, seeing is thinking. The light comes in through the lens and is focused on the retina. And the retina is doing - is pretty much working like brain cells. It's processing. And then the two optic nerves are sending what we now know are 20 megabits a second of information back to the brain. That's sure a lot better than my Wi-Fi at home. And so the seeing right then is being transformed into information, into thinking, right as that step from the retina to the brain. And the brain is really busy, and it likes to economize. And so it's quick to be active and jump to conclusions. So if you're told what to look for, you can't see anything else. So one thing is to see, in a way, without words. That avoids the confirmation bias, where, you know, that once you have a point of view, all history will back you up. And that's the eye and brain busy economizing on those 20 megabits a second that are coming in.
Edward Tufte on focusing on seeing
as we know from all the studies of cell phones and driving automobiles, people don't do very well in seeing where they're going when they're talking. And so deep seeing requires a fairly certain serenity of one's self, but also a serene environment. […]I had this experience - almost a magical experience. I was walking out on our farm by a long, stone wall and I said to my friend, let's just not talk. […]what happened to seeing after maybe 10 minutes of just seeing - not talking, not doing anything else - was it like the light became perfect. Like when you have filtered light from the sun, the shadows don't blow out the dark and the brights don't go out the white. But everything, you know, is in focus and not blown out. But now, it was just because you were seeing so much better, because all your brain power was devoted to it, it was like you were creating a perfect light for seeing. That is, you could see the details in the shadow, and you could protect the eye against blowing out to brightness.