Recent quotes:
Enterprise fund spending
▸ Enterprise funds. The House report on the bill offered a highly critical assessment of the Hungarian-American Enterprise Fund, one of several such equity and credit funds established to promote business development. The report said that the fund had failed to notify Congress before investing $4 million in a new merchant bank. The bank, called EurAmerica, paid three of its managers annualized salaries of almost $400,000 each. The report reverberated from Washington to Budapest as the president of the Enterprise Fund, Alexander Tomlinson, resigned and the organization cut the salaries of EurAmerica's officials. AID moved to tighten oversight of the enterprise funds, which had operated with considerable latitude since their creation. Chairman David R. Obey, D-Wis., of the House Foreign Operations Appropriations Subcommittee also had questioned the legal costs run up by the enterprise funds. Since their creation, several of the funds had been represented by the New York-based law firm Weil, Gotshal and Manges. According to an article in the Legal Times newspaper, the firm had reaped hundreds of thousands of dollars in fees from the arrangement.
Hungary: The War on Education | by Jan-Werner Müller | NYR Daily | The New York Review of Books
The number of university students has been declining dramatically since 2010; meanwhile, the age at which students can legally leave school has been lowered from eighteen to sixteen. Orbán, as part of his self-professed turn to "illiberalism," has put forward the notion of a "work-based state." In theory, such a state is the opposite of a polity where financial speculation generates most of the wealth. In practice, this idea has meant public works programs—especially for Roma—that critics view as highly exploitative; it has also resulted in an attempt to create a workforce primarily of manual laborers, where everyone knows their place and can at most aspire to employment by German industry (Mercedes is currently spending a billion euros on a new plant in central Hungary).
Vélemény: Gyáva - NOL.hu
During Tickets and all other activities of terrorist attacks in the bus terminal - topped with the words TEK up Janos Hajdu-chief presented to the Prime Minister late-night spectacle . The counterterrorism megfogalmazásunkat probably indignantly rejected, as was a serious exercise. But the commando techniques rarely is often presented to the public and foreign visitors. Sharp right position for the enemy unexpected, but well-rehearsed devices are the most important advantages. This only endangers the public initiation.
Budapest's non-stops remembered
he sweet-natured but infinitely weary Egyptian Copt who sometimes has to serve us through an anti-personnel grille in his shop door when street activities get lively around 1am. The two painfully thin grizzled men with missing teeth (one customer, one salesman) in the shop with only two shelves – 12 boxes of biscuits on each shelf – who challenged me to a series of mathematical match puzzles they had stretched out across the counter at 3 o'clock one difficult night. Or the mildly busy 24-hour shop around midnight where a man and woman, both in their 20s, were intently watching a porn channel on a TV set near the ceiling, ringing up each purchase and silently handing back change without once taking their eyes off the carnal congress on the small screen.
Hungary's Tokaj wine region revives Jewish heritage | Reuters
Alongside the plaques, however, there is a push to rediscover the wine-making region's Jewish roots. Hundreds of Hasidic Jewish pilgrims flock annually to Mád to visit the Baroque synagogue and the newly restored rabbi's house. The plaques marked the first time that any Jewish family was given public recognition in Tokaj. "This is a unique story: as far I know this is the first time that a (Jewish) family is remembered this way with a plaque in the Tokaj region," Mariann Frank, who leads a project to revive the region's Jewish traditions, said.
Hungarian Central Bank 'invests' $1 billion in 'private' foundations
The foundations have awarded grants to a right-wing publisher to publish books by pro-government journalists and by Mr Matolcsy's former chief of staff. One funded the publication of a six-volume heroic history of Hungary, written not by a historian but by an oncologist, which board members believed would "strengthen the patriotic sentiment against the globalist views".
Great radio performance kids!
She likened working with Fidesz MPs to resolve the crisis in the over-centralized public education system to being in mental hospital, citing a recent statement by former education undersecretary Rózsa Hoffmann that it simply isn't true there are problems in schools because she has heard wonderful children's performances on the radio. Szabó conceded that the government has toned down its attacks on dissatisfied teachers. Realizing the vast majority of Hungarians were aware of just how bad the problems in education really were, the government had now started to admit there were concerns. One such problem discussed on Egyenes Beszéd was that of the government's public education overseeing agency, KLIK, not paying bills to suppliers and service providers. In one case, reports surfaced of the utterly deplorable condition of the village school of Tarnazsadány. "We see what the government's solution is after a few weeks of deliberating on the subject: they're going to rename KLIK and appoint [President] János Áder's kid sister to run it," Szabó said. "Absolutely nothing will change.
Grow up controlled, become paranoid?
"Small children are justified in being conspiracy theorists, since their world is run by an inscrutable and all-powerful organization possessing secret communications and mysterious powers—a world of adults, who act by a system of rules that children gradually master as they grow up," write the cognitive scientists Thomas Griffiths and Joshua Tenenbaum in a 2006 study on coincidences.
The Finnish educational model and current Hungarian reality
The Finnish system is radically different from the Hungarian one, especially as transformed by Viktor Orbán in 2011. One difference is that in Finland parents can't choose the school to which they will send their children. All children attend the school maintained by the local community closest to his or her home. Moreover, there is no tracking like in the United States. Proponents of the Finnish system claim that the success of this model lies in the uniformity of education provided. Thus, there are no "elite schools" but there are no markedly inferior schools either, such as one finds in Hungary. The Hungarian system exacerbates the divide between the haves and the have-nots and stands in the way of social mobility. While the current government made it compulsory for children to attend kindergarten for three years, beginning at the age of three, and to enroll in first grade at the age of six, Finnish children start school only at the age of seven, preceded by a voluntary preparatory year. Children must attend school between the ages of 7 and 16, but almost all of the graduates continue their education. About half of them attend gymnasium, which is a three-year course of study. The other half attend basic-level vocational schools. The choice of trades is great: a Finnish 16-year-old can choose among 119 programs. There are 17 universities and 27 colleges in Finland, where the competition for admission is fierce. In 2011 out of 66,000 applicants to universities only 17,000 gained acceptance, while out of 70,000 applicants to college only 22,100 were accepted. Finnish higher education is free. According to OECD's "Education at a glance," Finland has one of the highest levels of educational attainment among the OECD countries: 84% of 25- to 64-year-olds have completed at least upper secondary education (against an OECD average of 75%) and 39% hold college or university degrees (OECD average: 32%). A few more facts about Finnish elementary education can be found here and here. The same "Education at a glance" of the situation in Hungary points out that although a large number of people finish high school, only 23% of young people are expected to complete university studies. The OECD countries' average was 39% in 2014. "Moreover, this rate has considerably decreased since 2010, by almost 9 percentage points."
Economists of the Hungarian Academy of Sciences speak out against the central bank's "foundations" – Hungarian Spectrum
These purchases are nothing compared to the €700 million earmarked by the Hungarian National Bank from its profits for foundations to support the teaching of economics, outside of the regular channels of higher education. The Bank set up five such foundations named after Pallas Athena, the goddess of wisdom, courage, inspiration, civilization, law and justice, just warfare, mathematics, strength, strategy, the arts, crafts, and skill. A perfect description of Hungary today! The amount the National Bank allocated to teach economics is one and a half times more than the Hungarian government spends a year on higher education.
How did Calvinism survive in Hungary?
In Hungary the situation is different, due mostly to the semi-independent Transylvanian Principality (1570-1711) and the Ottoman occupation of the central parts of the Kingdom of Hungary (1541-1699). In the principality, the elected princes were either converts to Calvinism, as in the case of János Zsigmond, the first prince of Transylvania (1565-1571), or were already born as Calvinists and were therefore promoters of freedom of religion. In the case of the Ottoman-held territories, Catholic aristocratic families fled north or west into so-called Royal Hungary, and therefore their former serfs could follow their own religious inclinations.
Hungarian doctors ask public support for improvements to healthcare – Hungarian Spectrum
Between 2003 and 2011, 12% of Hungarian doctors left the country, most of them after 2010. Sixteen percent of MDs simply abandon their profession and work in the pharmaceutical industry or in fields completely unrelated to medicine. According to some calculations, if the salaries of doctors were raised by 40-50%, the outflow of Hungarian doctors could be stopped.
Hungary shrinks
Sometime in May we learned that Hungary's population was continuing to shrink. The equivalent of a smaller town had disappeared within one year. In today's papers one can find new data on the subject. It is true that 0.5% more children were born between January and October, but the number of deaths rose by 5.5% during the same period. Thus, another middle-sized town disappeared. To be precise, 33,291 people.
The greatly touted Hungarian terrorist story is a hoax | Hungarian Spectrum
A young fellow who lives in Budapest is a World War II history buff who collects wartime memorabilia. This past weekend, with his father and two of his friends from Slovakia, he headed to some wooded areas around Veszprém with a metal detector to look for items like shells and old grenades. They packed the things they had found into the trunk of the car and headed home. Great was their surprise when they were surrounded by members of the Hungarian anti-terrorist group. TEK units, with their uniforms, masks, and heavy weaponry, are quite a frightening sight. A search of his parents' apartment followed, where TEK grabbed everything that looked suspicious to them, including, for example, the above mentioned fire extinguisher. Naturally, the three boys and the father were arrested.
"Not brave enough to speak about this" may translate as griping re Soros & The Cosmopolitans
"I am not brave enough to speak about this in public with certainty, but you cannot get around imagining that some kind of master plan is behind this," he said in an interview with Die Weltwoche published on Thursday. He cited essays by "the European left and radical American democrats" that envision the emergence of a European super state to the detriment of traditional nation-states.
Imre Mécs's eulogy for Árpád Göncz savages Fidesz
One time "young democrats" now turn against their principles, seek exclusive power, centralize practically everything, create a new predatory-exploiting stratum of society of their choice, and all that out of the money of the poor. They have institutionalized corruption and poverty, centralized the autocratic system, and oppressed self-governance in every field. They stir up hatred, and ignorance is rampant. Love, which determines the quality of your life, is persecuted and is 'non-grata'.
Grow up in a fog and you'll believe mysterious, malign winds move the world
Földi's favorite theme is that Europe is at war. A war that was started by the United States and her allies and that by now has reached Europe in the form of the influx of migrants. They are foot soldiers sent by ISIS to destroy Europe. He is convinced that there is a whole intelligence network behind the refugees whose members organize the movement of the people. "This is a consciously planned, built-up system in which everybody to the last man is channeled in." All of them receive instructions from the organizers. Földi believes that the intelligence agencies of European countries are fully aware of all this and that, if the fence is not enough, "if necessary even weapons must be used."
Escape from German-Occupied Europe
Close to 30,000 Jews were admitted into Switzerland, although an estimated 20,000 were turned away at the Swiss border. Spain allowed almost 30,000 Jewish refugees to enter, primarily from 1939 to 1941. These refugees, mostly from France, were permitted to cross Spain on their way to Portugal. German pressure reduced the number of Jews admitted entry into Spain to fewer than 7,500 during the years 1942-1944, although Spanish consuls distributed 4,000-5,000 identity documents (crucial to escape) to Jews in various parts of Europe. Portugal (a neutral country friendly to the Allies) permitted many thousands of Jews to reach the port of Lisbon. A number of American and French Jewish organizations helped the refugees, once in Lisbon, to reach the United States and South America. Neutral Sweden provided sanctuary for some Norwegian Jews in 1940 and for virtually the entire Danish Jewish community in October 1943. The Danish resistance movement organized the escape of 7,000 Danish Jews and 700 of their non-Jewish relatives across the Sund Channel to Malmo, Sweden.
Hungary at the Milan Expo: An expensive, embarrassing pavilion - Hungarian Spectrum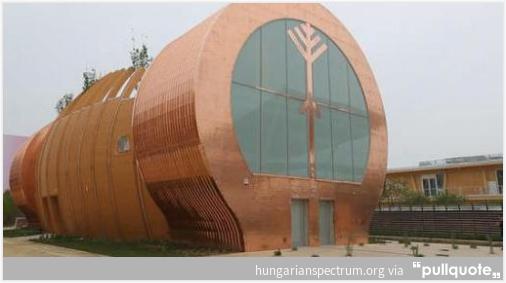 Former Hungarian Prime Minister weighs in on surging refugee tide.
Today no one dares to say that immigration is not a cultural but an ethnic problem. Namely, millions arrive in Europe whose languages and skin colors are different from those of Europeans. It is important to note that they don't just come from different cultures but their psychic apparatus, their biological and genetic endowments are different. It is a well-known fact that in Western Europe third-generation immigrants oppose the nations that took them in.
Hungary active in Ukraine
He began with Ukraine, a country that is in the cross hairs of the Hungarian government. It is here that the Orbán government is trying to stir up trouble. Lázár praised the work of the Hungarian military and civilian intelligence in Kiev both during and "after" the Russian-Ukrainian conflict. Hungarian intelligence has also been busy in the Hungarian-inhabited parts of the Subcarpathian region of Ukraine. Reading this portion of Lázár's speech, I gained the distinct impression that in this border region secret agents are busy feeding the Hungarian minority's dissatisfaction. The Orbán government expects, perhaps even hopes for, a conflict between Ukrainians and Hungarians, which might give Hungary an opportunity to demand a "solution" to the problem. Only yesterday Magyar Közlöny (Official Gazette) reported that this year the Hungarian government has provided 116 million forints "for the training of civilian guards," who are supposed to defend Hungarians against Ukrainian aggression. Lázár in his speech admitted that the Ukrainian government strenuously objects to the Hungarian government's meddling in the country's affairs. Indeed, the Orbán government treats Ukraine like a state from whose collapse Hungary might profit.
Bread and courts in Hungary
In his opinion, "to be a judge of the Constitutional Court in Hungary is an entirely different matter from being one in Denmark or in the Netherlands." His favorite example is an international meeting he attended while serving as an ombudsman. The Swiss ombudsman had to ascertain that seven refugees had washing machines and driers and could have daily showers while the ombudsman from Azerbaijan had to make sure that 300,000 refugees had at least 300 grams of bread and a liter and a half of water. Translating that into differences between constitutional courts, I assume he means that in Hungary people must be satisfied with less legal redress than the citizens of European countries with greater means enjoy.
Orbán: Hungarian system is "like pornography: hard to define but easily recognizable" | Politics.hu
Orbán said that in the area of social expenditures Hungary is fundamentally different from other countries, being a "work-based" society instead of a welfare one. He claimed that the social security system is different, employment for everyone is a major goal, there is no "superficial welfare spending," and the tax system is optimized for small and medium-sized businesses. He continued by saying: "Ideologists normally have a hard time defining what the heck this system is. It is like pornography, though: nobody can define it properly, but it is easily recognizable."
The growing Hungarian emigration
While only 19% of the population at home has a college or university degree, 32% of those who packed up and left were college or university educated. The reverse is true of those with only an eight-grade education. They make up 24% of the Hungarian population but only 6% of the emigrants.
Hungary grabs Munkácsy's Golgotha
In any case, the two sides couldn't agree on a price, and Pákh announced that he is packing the painting up and selling it to a Swiss-Russian buyer who will pay him $10 million. At this point the prime minister's office placed the painting under the protection of the Hungarian government, which means that the painting cannot leave the country. The painting has thus lost practically all its value because who would buy a painting that cannot be moved out of Hungary? According to one opinion, this move by the government is perfectly legal because "it serves the defense of national culture." Others think differently, claiming that the law regulating the protection of art objects states that the item in question must have been stored in Hungary for at least fifty years before it can be placed under "protection," and clearly this is not the case with Pákh's painting.
Congressman: 'synagogues open, all is well is Hungary'
Chairman Rohrabacher got many of his facts wrong, and many dangerously so, but, since he controlled the chair, no witness could challenge them.For example, he denied all evidence of officially stoked anti-Semitism in Hungary, following the Hungarian government's line that it is open-minded and tolerant while only the far-right Jobbik party is anti-Semitic. In response to an attempt by witness Tad Stahnke from Human Rights First to explain that the Hungarian government is rewriting Hungarian history through monuments, textbooks and museums to say that the Germans alone were responsible for the Holocaust in Hungary, Rohrabacher mocked the witness and pointed to the existence of open synagogues as the only evidence that was necessary to show that charges of anti-Semitism are baseless.