henry copeland
@hc
Convener, runner, puzzler. Instigator of Racery, Pullquote, Twiangulate, Blogads. Via Wooster, New Haven, 85th and Columbus, Budapest, Paris. y84.
Recent quotes:
Is a sexually transmitted yeast infection making people mentally ill? | Science | News | The Independent
"Because Candida is a natural component of the human body microbiome, yeast overgrowth or infection in the digestive tract, for example, may disrupt the gut-brain axis.  "This disruption in conjunction with an abnormally functioning immune system could collectively disturb those brain processes that are important for memory."
Twitter stops buying ping pong tables
Asked why Twitter stopped buying tables, spokesman Jim Prosser says: "I guess we bought really sturdy ones." Twitter spokeswoman Natalie Miyake says: "Honestly, we're more of a Pop-A-Shot company now," referring to an indoor basketball game. Is the tech bubble popping? Ping pong offers an answer, and the tables are turning. "Last year, the first quarter was hot" for tables, says Mr. Ng, who thinks sales track the tech economy. Now "there's a general slowdown."
When to dig
As a little girl, she used to help dig a grave before winter came. "You knew someone was going to die," she says, and if the ground was frozen, the body would have no place to go. "As a kid, you would think: That could be anybody. That could be me."
Publishers 'feeding on scraps from Facebook', says Bloomberg Media boss | Media | The Guardian
Newspapers, magazines and other publishers are "feeding on the scraps" of Facebook's multibillion-dollar ad business despite playing a central role in keeping the social network's users happy, according to the boss of Bloomberg Media. Justin Smith, chief executive of the financial information company's publishing arm, told the Guardian that even though Facebook was sending traffic to publisher websites, it was making far more from ads in its news feed which was filled with publisher content. "They keep the $16bn to $18bn they get in the news feed, and the news feed, with personal sharing down, is effectively all of our content, it's effectively just an aggregation of premium publishers' content," he said.
Hungarian Central Bank 'invests' $1 billion in 'private' foundations
The foundations have awarded grants to a right-wing publisher to publish books by pro-government journalists and by Mr Matolcsy's former chief of staff. One funded the publication of a six-volume heroic history of Hungary, written not by a historian but by an oncologist, which board members believed would "strengthen the patriotic sentiment against the globalist views".
Video games and depression
Results indicate that there was a 57% average decrease in depression symptoms among participants in the experimental group and this was statistically significant when compared to the control group. Table 1 presents clinical results for PHQ-9 pre- and post-study for both the video game and control groups. The video game group saw significant reductions in depression across the board, with all seven subjects previously classified as suffering from moderate to severe depression moving to the minor or minimal depression categories. At the same time, the number of subjects classified as having minor depression dropped from nine to four.
How Trees Calm Us Down
an additional ten trees on a given block corresponded to a one-per-cent increase in how healthy nearby residents felt. "To get an equivalent increase with money, you'd have to give each household in that neighborhood ten thousand dollars—or make people seven years younger," Berman told me.
Pain tolerance predicts human social network size : Scientific Reports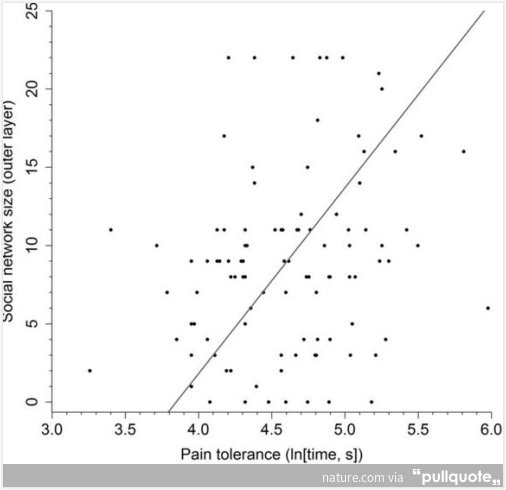 Asleep somewhere new, one brain hemisphere keeps watch -- ScienceDaily
They consistently found that on the first night in the lab, a particular network in the left hemisphere remained more active than in the right hemisphere, specifically during a deep sleep phase known as "slow-wave" sleep. When the researchers stimulated the left hemisphere with irregular beeping sounds (played in the right ear), that prompted a significantly greater likelihood of waking, and faster action upon waking, than if sounds were played in to the left ear to stimulate the right hemisphere. In other sleep phases and three other networks tested on the first night, there was no difference in alertness or activity in either hemisphere. On the second night of sleep there was no significant difference between left and right hemispheres even in the "default-mode network" of the left hemisphere, which does make a difference on the first night. The testing, in other words, pinpointed a first-night-only effect specifically in the default-mode network of the left hemisphere during the slow-wave phase.
Scientists just got a step closer to creating a universal allergy treatment - ScienceAlert
They developed dissolvable nanoparticles out of an FDA-approved polymer, and then filled them with egg protein, before injecting them into mice that were allergic to eggs. Usually, these mice would develop an asthma-like response, but because the egg protein was safely stored inside the friend-looking nanoparticles, their bodies didn't react.  Even better, the nanoparticles were then cleaned up by macrophages, which are tasked with 'vacuuming up' any debris in the blood stream. And these macrophages are part of the innate immune system, which meant that the allergens were then processed as normal. "The vacuum-cleaner cell presents the allergen or antigen to the immune system in a way that says, 'No worries, this belongs here,'" said Miller. The immune system then shuts down its attack on that allergen, and gets reset to normal.
Why Dancing Leads to Bonding
Studies show that dancing at parties and in groups encourages social bonding, whether it is a traditional stomp, a tango or even the hokeypokey. Many researchers have argued that people experience a blurring of the self into their groups thanks to the synchronization that occurs while dancing. Yet it is also possible that the exertion inherent to dancing releases hormones—like any other form of physical exercise—and these molecules are behind the bonding effect. A new study suggests both views may be correct.
Dopamine signaling as a neural correlate of consciousness
The neural correlates of consciousness are largely unknown but many neural circuits are likely to be involved. Our experiments with mice that cannot synthesize dopamine suggest that dopamine signaling is a critical component necessary for the expression of consciousness. Although dopamine-deficient mice are awake and respond to many stimuli, they are unmotivated and have profound deficits in all but the simplest learning tasks. Dopamine-deficient mice are unable to attend to salient sensory information, integrate it with prior experience, store it in long-term memory, or choose appropriate actions. While clearly conscious from a general anesthetic point of view, dopamine-deficient mice have marginal arousal and appear to be virtually unconscious from a behavioral point of view. Restoration of dopamine signaling within the striatum by viral gene therapy strategies restores most behaviors.
Research shows certain genes, in healthy environments, can lengthen lifespan -- ScienceDaily
The researchers found that the dopamine D2 receptor gene (D2R) significantly influences lifespan, body weight and locomotor activity, but only when combined with an enriched environment that included social interaction, sensory and cognitive stimulation and, most critically, exercise.
Systems Nutrigenomics Reveals Brain Gene Networks Linking Metabolic and Brain Disorders - EBioMedicine
Meng et al. report fructose as a powerful inducer of genomic and epigenomic variability with the capacity to reorganize gene networks critical for central metabolic regulation and neuronal processes in the brain; conversely, an omega-3 fatty acid, DHA, has the potential to normalize the genomic impact of fructose. Our findings help explain the pathogenic actions of fructose on prevalent metabolic and brain disorders and provide proof-of-concept for nutritional remedies supported by nutrigenomics evidence. Our integrative approach complementing rodent and human studies supports the applicability of nutrigenomics principles to predict disease susceptibility and to guide personalized medicine.
Dopamine's influence on preferences
The next day (once the L-DOPA had cleared from the body), all the participants were brought back and presented with 40 pairs of vacation spots, each pair containing locations to which they had given equal ratings in the first part of the experiment. Participants were asked to pick which of each pair of places they would prefer to visit. It turned out that those who had imagined themselves vacationing the previous day under the influence of dopamine were significantly more likely to predict they'd be happier in those same spots. That same preference didn't occur in the placebo group.
Gut feeling: Research examines link between stomach bacteria, PTSD
Bienenstock and Forsythe then fed the stressed mice the same probiotics (live bacteria) found in the calm mice and examined the new fecal samples. Through magnetic resonance spectroscopy (MRS), a non-invasive analytical technique using powerful MRI technology, they also studied changes in brain chemistry. "Not only did the behavior of the mice improve dramatically with the probiotic treatment," said Bienenstock, "but it continued to get better for several weeks afterward. Also, the MRS technology enabled us to see certain chemical biomarkers in the brain when the mice were stressed and when they were taking the probiotics."
Attitude makes a champion, study shows: Attitude distinguishes champions on the bumpy road to success -- ScienceDaily
The results showed that elite performers expressed an internal drive and commitment to their sports that their "almost" great colleagues lacked. The elite approached training with a "never satisfied" attitude, whereas "almosts" might avoid challenging training exercises. Following an injury or a failure to perform, high performers were determined to get back to their sports, stronger than ever. Low achievers, on the other hand, often expressed surprise at their failures, telling how they lost enthusiasm after such incidents.
Mind plus mind = new mind
Objective reality is just conscious agents, just points of view. Interestingly, I can take two conscious agents and have them interact, and the mathematical structure of that interaction also satisfies the definition of a conscious agent. This mathematics is telling me something. I can take two minds, and they can generate a new, unified single mind. Here's a concrete example. We have two hemispheres in our brain. But when you do a split-brain operation, a complete transection of the corpus callosum, you get clear evidence of two separate consciousnesses. Before that slicing happened, it seemed there was a single unified consciousness. So it's not implausible that there is a single conscious agent. And yet it's also the case that there are two conscious agents there, and you can see that when they're split. I didn't expect that, the mathematics forced me to recognize this. It suggests that I can take separate observers, put them together and create new observers, and keep doing this ad infinitum. It's conscious agents all the way down.
Reality is too complex for humans
Evolution has shaped us with perceptions that allow us to survive. They guide adaptive behaviors. But part of that involves hiding from us the stuff we don't need to know. And that's pretty much all of reality, whatever reality might be. If you had to spend all that time figuring it out, the tiger would eat you.
Apple organizes around specialties, not products
Apple employs what is known as a "unitary organizational form" — U-form for short — which is also known as a "functional organization." In broad strokes, a U-form organization is organized around expertise, not products: in the case of Apple, that means design is one group (under Ive), product marketing is another (under Schiller), and operations a third (under Williams, who is also Chief Operating Officer). Other areas of expertise represented by the members of Apple's executive team include Software Engineering (Craig Federighi), Hardware Engineering (Dan Riccio), and Hardware Technologies (Johny Srouji). What is most striking about that list is what it does not include: the words iPhone, iPad, Mac, or Watch. Apple's products instead cut across the organization in a way that enforces coordination amongst the various teams:
I've come last in 24 marathons. But so far I've done 97 plus two 56-mile ultras. Does that make me a failure – or a runaway success? Many runners think that getting from point A to point B as speedily as possible is the only goal running has to offer. I happen to think differently. If you start measuring your success in races against different criteria – "most fun had", "most friends made" or "best scenery spotted" – you'll find that every race has PB potential.
The Efficacy of Cognitive Behavioral Therapy: A Review of Meta-analyses
Cognitive behavioral therapy (CBT) refers to a popular therapeutic approach that has been applied to a variety of problems. The goal of this review was to provide a comprehensive survey of meta-analyses examining the efficacy of CBT. We identified 269 meta-analytic studies and reviewed of those a representative sample of 106 meta-analyses examining CBT for the following problems: substance use disorder, schizophrenia and other psychotic disorders, depression and dysthymia, bipolar disorder, anxiety disorders, somatoform disorders, eating disorders, insomnia, personality disorders, anger and aggression, criminal behaviors, general stress, distress due to general medical conditions, chronic pain and fatigue, distress related to pregnancy complications and female hormonal conditions. Additional meta-analytic reviews examined the efficacy of CBT for various problems in children and elderly adults. The strongest support exists for CBT of anxiety disorders, somatoform disorders, bulimia, anger control problems, and general stress. Eleven studies compared response rates between CBT and other treatments or control conditions. CBT showed higher response rates than the comparison conditions in 7 of these reviews and only one review reported that CBT had lower response rates than comparison treatments. In general, the evidence-base of CBT is very strong. However, additional research is needed to examine the efficacy of CBT for randomized-controlled studies. Moreover, except for children and elderly populations, no meta-analytic studies of CBT have been reported on specific subgroups, such as ethnic minorities and low income samples.
Rosemary really is herb of remembrance, as scent boosts memory by 15 per cent, say scientists | The Telegraph
A study of pensioners found that simply being in a room diffused with the smell of rosemary boosted memory test scores by 15 per cent.
Mindfulness therapy works as well as anti-depressant drugs, major new study finds | Science | News | The Independent
"It's a sort of mental training. It's about training the mind so people can see negative thoughts, negative feelings, the early signs of a depressive relapse, and learn the skills to respond to those in a way that makes them more resilient." A woman in one of his classes would start to have thoughts such as "I'm no good, I'm not a very good mother, I'm going to mess up my children and they are going to suffer from depression as I do", he said. But, after the training, Professor Kuyken said the woman was "able to recognise her negative thoughts as negative thoughts not facts, and not engage with them as much".  "She developed a metaphor of a wrecking ball. Instead of being knocked over, she'd stand back and let the wrecking ball swing through her mind," he added.
Sugar can cause brain damage, claim scientists (but salmon reverses it)
The scientists fed a group of rats for six weeks with fructose-spiked water (the equivalent to about a litre of soft drinks a day for humans). Then they put them in a maze, alongside rats which had drank only water. The rats which had consumed fructose took twice as long to navigate the maze as the water-only group, despite the same level of training - suggesting that their memories had been impaired.
Google AMP Is Also A Mobile Ads Revolution
"There are basically two ways to address the questions of AMP applied to ads", said Craig DiNatali, who is director of news and magazines partnerships at Google in New York. "You can have creative units based on AMP which render ad formats in the same way AMP contents pages are rendered. In such case, we have an AMP format within an AMP Frame". This options comes with several problems such as the reporting of elements that goes beyond a simple count of pages views. This is because advertisers and media buying agencies rely on complicated metrics to measure the impact of ad formats that are mostly sold on performance. This leads to another, much easier to implement solution: providing tools to build advertising landing pages with images and information, all AMP-compliant. Also, in order to invest time and money in AMPed ad formats, creative agencies need to be convinced that the visual potential of the accelerated format will remain the same, or even that AMP will offer more attractive alternatives.