henry copeland
@hc
Convener, runner, puzzler. Instigator of Racery, Pullquote, Twiangulate, Blogads. Via Wooster, New Haven, 85th and Columbus, Budapest, Paris. y84.
Recent quotes:
A very bad sign for all but America's biggest cities - Chicago Tribune
In the economic recovery of the early 1990s, 125 counties combined to generate half the total new business establishments in the country. In this recovery, half the growth has been generated by just 20 counties.
Gawker Founder Suspects a Common Financer Behind Lawsuits - The New York Times
Several legal experts said that it was particularly unusual for a plaintiff using a lawyer being paid on a contingency basis not only to turn down settlement offers (several sizable settlements were proffered by Gawker) but also to pursue a strategy that prevented an insurance company from being able to contribute to a settlement. "It's a very unusual thing to do, because the insurance company would have deeper pockets than Gawker," said Larry Geneen, a risk management consultant who has long dealt with lawsuits involving insurance companies. "I've never had a situation where the plaintiff intentionally took out the claim involving the insurance company." And given that Mr. Hogan has had financial ups and downs, the cost of the hundreds of motions his lawyers made is significant, and the chances the award is significantly reduced based on previous cases he lost making the same claims in federal court, it's hard to completely understand the motivations at play. Additionally, Mr. Harder has brought two new cases against Gawker that seem puzzling. One is a defamation case on behalf of Shiva Ayyadurai, who claimed to have invented email. Gawker had written an article challenging his argument, similar to an article from The Washington Post and others on the same topic.
Confessions of a social media exec on influencer marketing: 'We threw too much money at them' - Digiday
Social team is a bunch of millennials, so we'll often find someone we like and we'll throw it into a database with keywords. But usually it's a CEO or CMO or whoever saying, "Oh, my kid likes this guy." At this major car brand I worked for, we paid $300,000 for a few photographs because the CEO's kid liked someone.
Nike's claim on Pre in Runner's World | We Run and Ride
I'm going to say it: this month's Runner's World article on the relationship between Nike and Pre felt too much like an advertisement to be ultimately inspiring.
Microsoft Research wants to pit you against virtual swimmers
Redmond's research division is working with a team of researchers from Korea Advanced Institute of Science and Technology (KAIST) to develop SwimTrain. It's a system consisting of an app, a waterproof case for your smartphone and a pair of underwater headphones that provides sensory/auditory feedback. SwimTrain puts you in a team of three swimmers -- if you're competing, it tells you how you're doing against your two virtual opponents. If you're in the same team, it helps you maintain your strokes so you can keep up with your virtual teammates.
Do you pretend to enjoy Pinter? Shakespeare? Stoppard? You're not alone | Lauren Mooney | Opinion | The Guardian
In one of the most wily marketing tactics I've ever seen, Stoppard has talked about his audiences growing stupider until he's convinced people that anyone who doesn't like him doesn't Get It. So now people are reduced to trying to like him louder than each other, to prove to Tom Stoppard that they're clever. Even though I once watched him fail to use an automatic door. I quite like Tom Stoppard plays, but I do think it's worth remembering that, much like the girl I was at school with who had a bruised chin for six weeks because a boy she fancied told her to twist it round and round in her hand (true), not everyone who wants you to prove yourself to them deserves it.
Italy must choose between the euro and its own economic survival
Italy needs root-and-branch reform but that is by nature contractionary in the short-run. It is viable only with a blast of investment to cushion the shock, says Mr Tilford,  but no such New Deal is on the horizon. Legally, the EU Fiscal Compact obliges Italy to do the exact opposite: to run budget surpluses large enough to cut its debt ratio by 3.6pc of GDP every year for twenty years. Do you laugh or cry? "There is a very real risk that Matteo Renzi will come to the conclusion that his only way to hold on to power is to go into the next election on an openly anti-euro platform. People are being very complacent about the political risks," said Mr Tilford.
Monster tornado gives teens epic prom photo
I realized—lamentably, I must admit at the age of thirty-two, for one of the first times—that my own ambition could wait another day.
Depression in patients with alcohol use disorders
Results of this review and meta-analysis revealed that combined treatment for co-morbid depression and alcohol use disorders is associated with a large early improvement in depression, irrespective of whether the depression is independent of alcohol misuse. The mean level of depression improved considerably in the first 3-6 weeks of treatment, but plateaued by 3 months. The amount of improvement was consistent across study participants with high levels of depression at baseline. The study also reported a modest effect of antidepressant medication on depression in those with co-morbid alcohol use disorders. However, the strongest effect appeared to be for patients with depression that is independent of substance misuse.
Is a sexually transmitted yeast infection making people mentally ill? | Science | News | The Independent
"Because Candida is a natural component of the human body microbiome, yeast overgrowth or infection in the digestive tract, for example, may disrupt the gut-brain axis.  "This disruption in conjunction with an abnormally functioning immune system could collectively disturb those brain processes that are important for memory."
Twitter stops buying ping pong tables
Asked why Twitter stopped buying tables, spokesman Jim Prosser says: "I guess we bought really sturdy ones." Twitter spokeswoman Natalie Miyake says: "Honestly, we're more of a Pop-A-Shot company now," referring to an indoor basketball game. Is the tech bubble popping? Ping pong offers an answer, and the tables are turning. "Last year, the first quarter was hot" for tables, says Mr. Ng, who thinks sales track the tech economy. Now "there's a general slowdown."
When to dig
As a little girl, she used to help dig a grave before winter came. "You knew someone was going to die," she says, and if the ground was frozen, the body would have no place to go. "As a kid, you would think: That could be anybody. That could be me."
Publishers 'feeding on scraps from Facebook', says Bloomberg Media boss | Media | The Guardian
Newspapers, magazines and other publishers are "feeding on the scraps" of Facebook's multibillion-dollar ad business despite playing a central role in keeping the social network's users happy, according to the boss of Bloomberg Media. Justin Smith, chief executive of the financial information company's publishing arm, told the Guardian that even though Facebook was sending traffic to publisher websites, it was making far more from ads in its news feed which was filled with publisher content. "They keep the $16bn to $18bn they get in the news feed, and the news feed, with personal sharing down, is effectively all of our content, it's effectively just an aggregation of premium publishers' content," he said.
Hungarian Central Bank 'invests' $1 billion in 'private' foundations
The foundations have awarded grants to a right-wing publisher to publish books by pro-government journalists and by Mr Matolcsy's former chief of staff. One funded the publication of a six-volume heroic history of Hungary, written not by a historian but by an oncologist, which board members believed would "strengthen the patriotic sentiment against the globalist views".
Video games and depression
Results indicate that there was a 57% average decrease in depression symptoms among participants in the experimental group and this was statistically significant when compared to the control group. Table 1 presents clinical results for PHQ-9 pre- and post-study for both the video game and control groups. The video game group saw significant reductions in depression across the board, with all seven subjects previously classified as suffering from moderate to severe depression moving to the minor or minimal depression categories. At the same time, the number of subjects classified as having minor depression dropped from nine to four.
How Trees Calm Us Down
an additional ten trees on a given block corresponded to a one-per-cent increase in how healthy nearby residents felt. "To get an equivalent increase with money, you'd have to give each household in that neighborhood ten thousand dollars—or make people seven years younger," Berman told me.
Pain tolerance predicts human social network size : Scientific Reports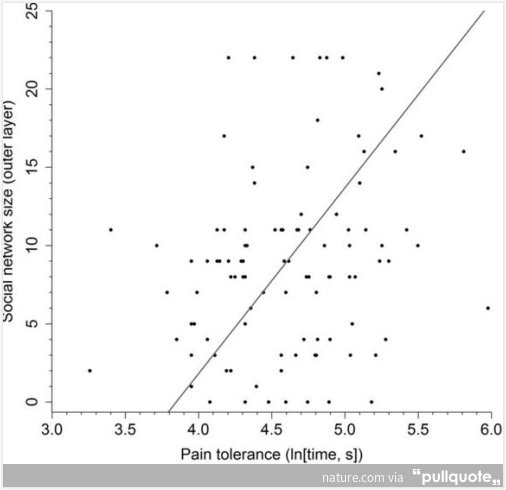 Asleep somewhere new, one brain hemisphere keeps watch -- ScienceDaily
They consistently found that on the first night in the lab, a particular network in the left hemisphere remained more active than in the right hemisphere, specifically during a deep sleep phase known as "slow-wave" sleep. When the researchers stimulated the left hemisphere with irregular beeping sounds (played in the right ear), that prompted a significantly greater likelihood of waking, and faster action upon waking, than if sounds were played in to the left ear to stimulate the right hemisphere. In other sleep phases and three other networks tested on the first night, there was no difference in alertness or activity in either hemisphere. On the second night of sleep there was no significant difference between left and right hemispheres even in the "default-mode network" of the left hemisphere, which does make a difference on the first night. The testing, in other words, pinpointed a first-night-only effect specifically in the default-mode network of the left hemisphere during the slow-wave phase.
Scientists just got a step closer to creating a universal allergy treatment - ScienceAlert
They developed dissolvable nanoparticles out of an FDA-approved polymer, and then filled them with egg protein, before injecting them into mice that were allergic to eggs. Usually, these mice would develop an asthma-like response, but because the egg protein was safely stored inside the friend-looking nanoparticles, their bodies didn't react.  Even better, the nanoparticles were then cleaned up by macrophages, which are tasked with 'vacuuming up' any debris in the blood stream. And these macrophages are part of the innate immune system, which meant that the allergens were then processed as normal. "The vacuum-cleaner cell presents the allergen or antigen to the immune system in a way that says, 'No worries, this belongs here,'" said Miller. The immune system then shuts down its attack on that allergen, and gets reset to normal.
Why Dancing Leads to Bonding
Studies show that dancing at parties and in groups encourages social bonding, whether it is a traditional stomp, a tango or even the hokeypokey. Many researchers have argued that people experience a blurring of the self into their groups thanks to the synchronization that occurs while dancing. Yet it is also possible that the exertion inherent to dancing releases hormones—like any other form of physical exercise—and these molecules are behind the bonding effect. A new study suggests both views may be correct.
Dopamine signaling as a neural correlate of consciousness
The neural correlates of consciousness are largely unknown but many neural circuits are likely to be involved. Our experiments with mice that cannot synthesize dopamine suggest that dopamine signaling is a critical component necessary for the expression of consciousness. Although dopamine-deficient mice are awake and respond to many stimuli, they are unmotivated and have profound deficits in all but the simplest learning tasks. Dopamine-deficient mice are unable to attend to salient sensory information, integrate it with prior experience, store it in long-term memory, or choose appropriate actions. While clearly conscious from a general anesthetic point of view, dopamine-deficient mice have marginal arousal and appear to be virtually unconscious from a behavioral point of view. Restoration of dopamine signaling within the striatum by viral gene therapy strategies restores most behaviors.
Research shows certain genes, in healthy environments, can lengthen lifespan -- ScienceDaily
The researchers found that the dopamine D2 receptor gene (D2R) significantly influences lifespan, body weight and locomotor activity, but only when combined with an enriched environment that included social interaction, sensory and cognitive stimulation and, most critically, exercise.
Systems Nutrigenomics Reveals Brain Gene Networks Linking Metabolic and Brain Disorders - EBioMedicine
Meng et al. report fructose as a powerful inducer of genomic and epigenomic variability with the capacity to reorganize gene networks critical for central metabolic regulation and neuronal processes in the brain; conversely, an omega-3 fatty acid, DHA, has the potential to normalize the genomic impact of fructose. Our findings help explain the pathogenic actions of fructose on prevalent metabolic and brain disorders and provide proof-of-concept for nutritional remedies supported by nutrigenomics evidence. Our integrative approach complementing rodent and human studies supports the applicability of nutrigenomics principles to predict disease susceptibility and to guide personalized medicine.
Dopamine's influence on preferences
The next day (once the L-DOPA had cleared from the body), all the participants were brought back and presented with 40 pairs of vacation spots, each pair containing locations to which they had given equal ratings in the first part of the experiment. Participants were asked to pick which of each pair of places they would prefer to visit. It turned out that those who had imagined themselves vacationing the previous day under the influence of dopamine were significantly more likely to predict they'd be happier in those same spots. That same preference didn't occur in the placebo group.
Gut feeling: Research examines link between stomach bacteria, PTSD
Bienenstock and Forsythe then fed the stressed mice the same probiotics (live bacteria) found in the calm mice and examined the new fecal samples. Through magnetic resonance spectroscopy (MRS), a non-invasive analytical technique using powerful MRI technology, they also studied changes in brain chemistry. "Not only did the behavior of the mice improve dramatically with the probiotic treatment," said Bienenstock, "but it continued to get better for several weeks afterward. Also, the MRS technology enabled us to see certain chemical biomarkers in the brain when the mice were stressed and when they were taking the probiotics."